Our Santee Plumbing Contractors Do It All!

Our plumbing contractors in Santee, California offer a range of services to commercial and residential customers. They include:
Piping Installation and Repair:
Underground piping installation
internal piping installation
Re-piping and sectional replacements
Clearing clogged drains and toilets
Fixture and Hardware Installation and Repair:
Ice makers and refrigeration
Outdoor showers, hot tubs and other fixtures
New Construction and Renovation:
Our Santee plumbing contractors work with developers and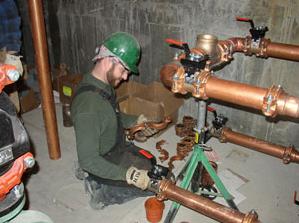 residential/commercial owners to plan new construction, completely renovate existing structures or add piping and fixtures to empty shells. We also work to upgrade legacy plumbing systems and help to guide the best decision between complete tear outs or partial upgrades. We make recommendations for the components and structures that are not only the most affordable, but that provide room for growth and expansion, save energy and provide maintenance-free operation. We work with developers and architects before planning begins to get accurate budget and pricing guidelines for both fixtures and installation, and help to avoid costly plumbing redesigns.
Green Plumbing:
We offer recommendations, installation and maintenance of green plumbing technologies such as:

High efficiency water heaters
High efficiency heating and cooling
Low flow, water saving faucets and toilets
Energy star appliances and fixtures like dishwashers, whirlpools and hot tubs, and garbage disposals
Solar powered outdoor plumbing